Boba Fett Returns - The Loop
Play Sound
Brave heart is the one hundred sixty-sixth chapter of the Tokyo卍Revengers (Manga).
Summary
After Takemichi declares that Toman will not lose, Izana urges Kakucho to finish off Takemichi. However, Takemichi remarks that Kakucho will not win, as he is not determined enough.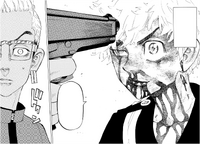 In reaction, Kisaki tells Kakucho to move over, allowing him to face Takemichi himself. Asking if Takemichi processes the determination to win, even if he dies, Kisaki points a gun at his head. Excluding Izana, everyone there is horrified; unexpectedly, Takemichi puts his head closer to the barrel of the gun, much to Kisaki's confusion.
Takemichi reflects on his lack of fear, as the encouragement and self-sacrifice of countless people, such as Naoto, Baji, and Chifuyu have given him courage. After Takemichi asks Kisaki what is holding him back, a shot rings out. However, Kisaki cannot bring himself to kill Takemichi, shooting him in the foot instead. Takemichi thinks of the futures of numerous people that are relying on him as well as the pain he attributes to Kisaki; these people provide motivation against defeat. He tells a confused Kisaki that although he does not possess the attributes of others around him, such as charisma, strength, or intelligence, he is good at one thing: he does not give up. Takemichi vows not to give up, even at the cost of his death.
Characters in Order of Appearance
References