Reconflict is the twenty-second chapter of the Tokyo卍Revengers (Manga).
Summary
Mikey arrives, and pieces together the enemy's plan to break up Toman; he was called to a different area to isolate Draken. As Mikey asks Peh-yan who manipulated him, Takemichi wonders this as well.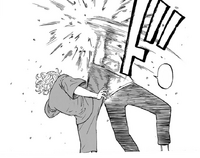 Hanma arrives as the temporary leader of Moebius, spurring Mikey to kick him. However, Hanma blocks his kick and orders the Moebius members to kill both Mikey and Draken, with the goal of destroying Toman. As Takemichi contemplates the unexpected developments, all of Toman arrives, prepared to unite to fight Moebius.
Characters in Order of Appearance