Jurassic World: Dominion Dominates Fandom Wikis - The Loop
Play Sound
Dynamic duo is the second chapter of the 26th volume and the 226th chapter overall of the Tokyo卍Revengers manga series, written and illustrated by Ken Wakui.
Summary
The battle between the three gangs ensues. Kakucho fights through the Kanto Manji Gang in an attempt to reach Mikey. As two Kanto Manji Gang members retrain him, he wonders about Mikey's passive state.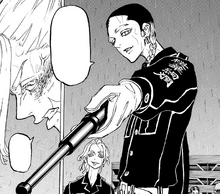 Taking advantage of the ambush on Kakucho, Sanzu swings a pipe over his head. He taunts Kakucho, telling him that weaponry will always triumph strength. Behind him, Ran agrees, just as he hits Sanzu's face with his baton. His brother snickers beside him. The Kanto Manji Gang realizes the sheer power of the S-62 Generation as Mocchi fights through them.
Meanwhile, as they face South, Akashi angrily orders Benkei and Waka to move. Addressing Benkei and Waka, South is impressed, commenting that the "Greatest Duo" is an apropos nickname; they have defeated a hundred of Rokuhara Tandai's members. The defeated men stare in shock at the duo's composure and strength.
As Takemichi watches, Senju explains Benkei and Waka's history. Before the formation of Black Dragon, those two divided the Kanto Region with their gangs: one in the East and one in the West. Benkei led Ragnarok, a 600-member gang located in western Kanto. Ragnarok was considered Japan's largest gang, and Benkei was given the nickname "Redcliff" due to him wearing the blood of his enemies. On the eastern side, Kodo Rengo formed from twelve smaller gangs, all under the leadership of Waka, nicknamed the "White Leopard". The eastern and western gangs engaged in numerous conflicts before a previously unknown Shinichiro Sano united them, forming Black Dragon. Senju says that according to Akashi, they are Japan's toughest brawlers.
Although Benkei wants to preserve their strength against Mikey, they prepare to fight South. Waka warns that South's strength is comparable to Mikey's. South boisterously beckons his opponents, with both Benkei and Waka rushing towards him.
Characters in order of appearance
References