Doctor Strange in The Multiverse o Madness - The Loop
Play Sound
| | | |
| --- | --- | --- |
| " | Throughout the heavens, I alone am the honored one. | " |
|   | — The Tokyo Manji Gang's manifesto | |
The Tokyo Manji Gang (東京卍會, Tōkyō Manji-Kai?), often abbreviated as Toman (東卍, Tōman?), is a biker gang based in Shibuya, Tokyo. It was known for its honorable ideals and beliefs that contributed to its goal in establishing a new golden era for delinquents in the Kanto region.[2] However, this image crumbled as its ranks were continually corrupted and transformed into a criminal organization that took the lives of innocent civilians in the present day.[3]
Throughout its reign, Toman took on several gangs and declared victory against them, causing it to rapidly grow its numbers until its disbandment. Two years later, Toman is rebuilt by Takemichi Hanagaki under the Second Generation denomination as an effort to take down the Kanto Manji Gang and retrieve Manjiro Sano.[4]
Appearance
Uniform
Toman's official uniform was a black tokkō-fuku (特攻服, special attack clothing?) fashioned after the bōsōzoku subculture in Japan. Its sleeves bore the wearer's position or division number with the gang's manifesto embroidered on the upper front section. Toman's complete name adorned the backside. To easily distinguish its upper echelon from the division members, all Toman Captains and its Vice-Leader wore a white tasuki (襷,?) or sash. Its leader wore a similar sash in the color red, secured on the shoulder straps of his tailcoat.
After the Bloody Halloween conflict, the First Generation Toman leaders adopted an exclusive casual uniform similar to Valhalla's. The jacket's tag was Toman's complete name in romaji.
The Second Generation would later wear the same uniform with the denomination name (二代目, Ni daime?) embroidered on the back collar. Its present administration commonly wears business-like attire and semi-formal garments on occasion.
Background
Toman was founded on June 19, 2003, two weeks after Manjiro Sano took on Kazutora Hanemiya's childhood friend and his accomplices alone.[5] Mikey won against them as an effort to protect Kazutora from harm, but his victory soon made way for Kazutora's friends to retaliate with the Ninth Generation Black Dragon on their side.[6]
A week after receiving word of the Ninth Generation alliance, Mikey gathered Kazutora, Ken Ryuguji, Takashi Mitsuya, Keisuke Baji, and Haruki Hayashida at Musashi Shrine to confront Kazutora about fighting the Black Dragon all by himself.[7] Mikey planned to fight them, which induced Baji to form a gang of their own. With Mikey as its leader, Draken as its Vice-Leader, and the rest commanding the gang's regime, the Tokyo Manji Gang was formed.[8]
Structure
Toman's structure mirrored the typical composition of a delinquent gang. Its top administration comprised of a leader, often addressed as is or "Boss," with a Vice-Leader, or "Vice President," at his side. Subservient to its leaders were Division Captains, who led one division each consisting of at least 20 men.[9] Under them were their respective Division Vice-Captains, usually their close companions or advisers, and personally appointed Squad Captains for its attack and elite squads.[10] Under the Squad Captains were the division members.
Toman had five divisions, amounting to approximately 100 members.[9] Its member count helped it be recognized as a large motorbike gang in Tokyo. Once Toman faced Moebius, its Third Division fell short on leadership as its Captain Haruki Hayashida (Pah-chin) was sent to a detention center after turning himself in for inflicting injury on Moebius' leader.[11] Following Pah-chin's arrest, Toman was split into two factions, namely the "Mikey side" and the "Draken side."[12] Mikey's side was in favor of his intention to bail Pah-chin out of jail, but Draken's side disapproved of this plan, as it would leave Pah-chin's sacrifice to be in vain.[13]
With the Third Division lacking a captain, Mikey elected Tetta Kisaki as Pah-chin's replacement after Toman's victory in another battle against Moebius.[14] Kisaki's membership caused Toman to grow from approximately 100 members to 150.[15] After the gang's victory against the motorbike gang Valhalla, a sixth division was founded under the command of Shuji Hanma. Compared to the other five divisions, the sixth had a total of 300 members, all previously from the gang.[16] However, the Sixth Division was later dissolved as Kisaki was expelled from Toman for double-crossing the team during the Christmas Conflict. Consequently, Toman's numbers dwindled from 450 back to the original 100, as Hanma left the gang with him.[17]
Alongside the decrease in numbers was Ryohei Hayashi's (Peh-yan's) promotion from former Third Division Vice-Captain and Second Division member to the Third Division's acting Captain.[18] From that day onward, Peh-yan commanded the Third Division alone. Toman also became the parent organization of the 11th Generation Black Dragon after defeating the 10th in a battle.[19] Through their affiliation under the First Division, Takemichi Hanagaki became the 11th Generation's leader.[20]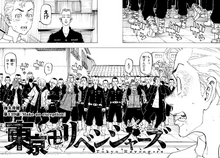 Although it is unclear how members were assigned to a division, Toman's original five had unique prominent qualities that differentiated them from the others. The first was intended to be an attack unit and the second as the elite guard during the gang's foundation.[21] The Fifth Division was later formed to be the gang's "Public Morality Council," where its members were given the duty to investigate on skeptical division members without the express permission from Toman's higher-ups. This meant that only Fifth Division members were allowed to initiate infighting as long as it was for the benefit of the gang. Assigned to this division was a physically strong captain capable enough to facilitate such investigations.[22]
During the battle against Tenjiku, Takemichi became Toman's de facto leader as he led the gang in Mikey's behalf.[23] Two years after Toman's disbandment, Takemichi reforms the gang and leads Toman as its second generational leader.[4]
Throughout Takemichi's time leap excursions, the present-day Toman would regularly change and add members. As a criminal organization, Toman was commanded by its prime leader and his second-in-command. Subservient to them are the organization's Top Admins, followed by Admins, then the gang's made men.[24] Toman's division system was abolished and its Captains were replaced with Admins. By Takemichi's 14th time leap, a third leader was introduced, who, in essence, served as Toman's prime leader to fill in his superiors' truancies.[25]
Members
Tokyo Manji Gang
Leader
Vice-Leader
Division Captains
Division Acting Captains
Division Vice-Captains
Division members
Tokyo Manji Gang
Leader
Vice-Leader
Division Captains
Division Vice-Captains
Division members
Tokyo Manji Gang
Leader
Number 2
Number 3
Top Admins
Admins
Gang members
Battles
References